Regular price
Sale price
$54.95 USD
Unit price
per
Sale
Sold out
When you're heartbroken, it's hard to see the light at the end of the tunnel. But with Navre, you'll find the strength to overcome your darkest days and start anew. This candle is your companion through loss, trauma, and grief, and even aids in mental health*.
Navre is infused with Black Tourmaline and Rainbow Moonstone, making it a powerhouse of protection. It shields your fragile heart from unwanted energy and negative thoughts, and helps you find a positive outlook on life. It encourages new beginnings and increases your spiritual awareness and intuition, giving you clarity on your purpose.
This candle also helps you address difficult emotions, all while keeping you calm and safe in your own mind. Navre replaces old negative thought patterns with emotional balance, helping you heal from heartbreak.
The floral scent of Navre replicates a bouquet of roses, filling your home with the sweet aroma of fresh flowers, from the delicate petals to the earthy stems.
Take the first step towards healing with Navre – the candle that will help you find the light again.
The notes:
Base: Patchouli, Amber, Musk, Rose Stem
Middle: Sea Spray, Oakmoss, Cyclamen, Rose
Top: Grapefruit, Lime, Cinnamon Leaf, Lemon
The affirmations:
I allow myself to feel this, to fully be here.
I let go of my resistance to this situation.
I'll never be the same person again, yet, that is okay.
I focus on my blessings, goals and memories.
Today, I choose to heal.
I hold onto the love and let go of the grief. 
The nitty gritty:
Burn time: 55 hours
285 gram wax
800 gram weight
100% natural soy wax
100% cotton lead, free wicks
Hand poured in Melbourne
Affirmations will provide stronger energy
Where to put me: 
Navre is beautiful in any room in your home, however we recommend placing it in a room you will be able to let your emotions out. A bathroom, a bedroom or a living area. 
Navre pairs well with:
Jetiame (for a breakup)
Vous Pouvez (for a job loss to regain some confidence)
Reine (to help with parenting and those really hard days)
Esprit Clair (to help with anxiety and mental health)
Mauvasie (to heal from a toxic relationship)
Chakra Alignment – Third Eye and Crown
Share
View full details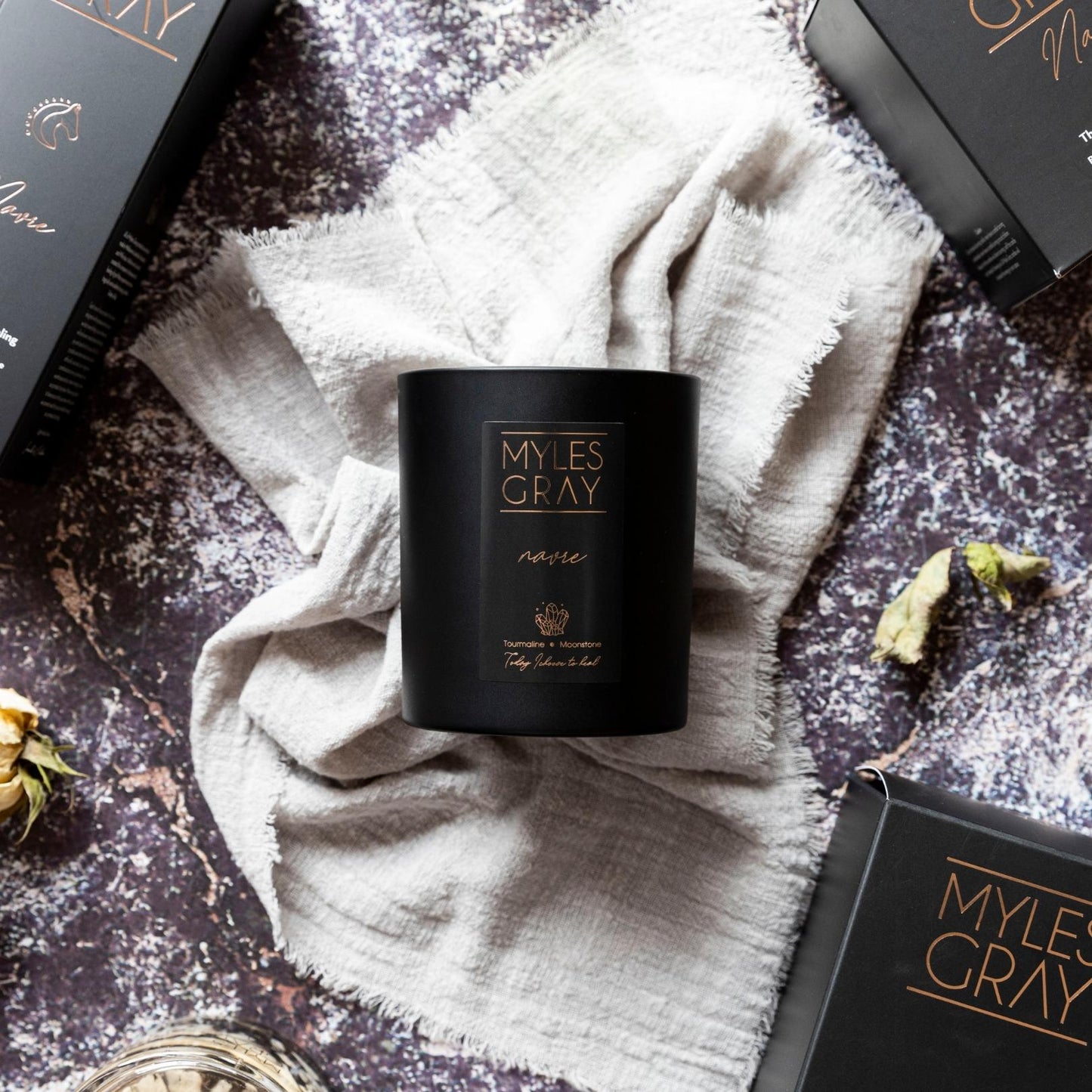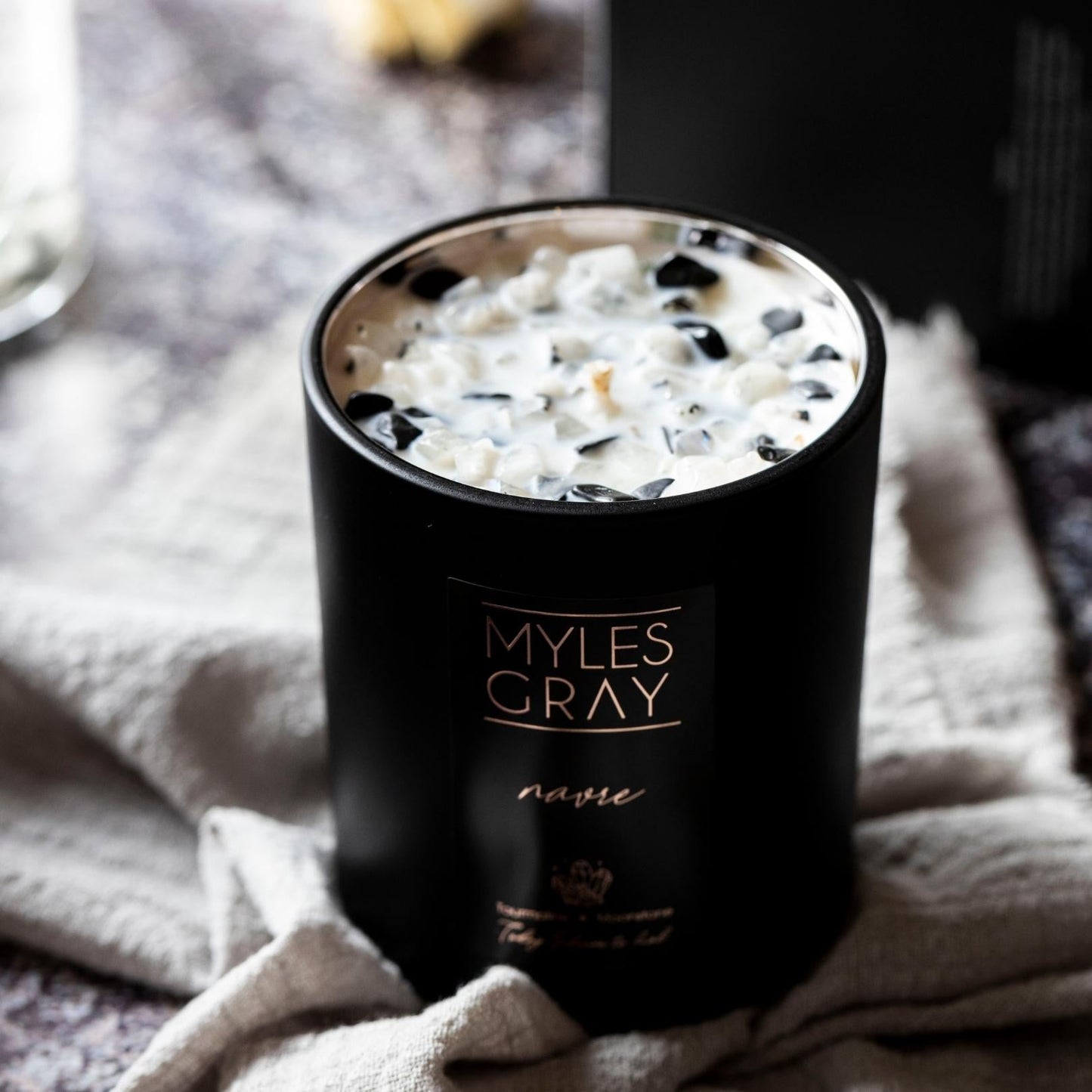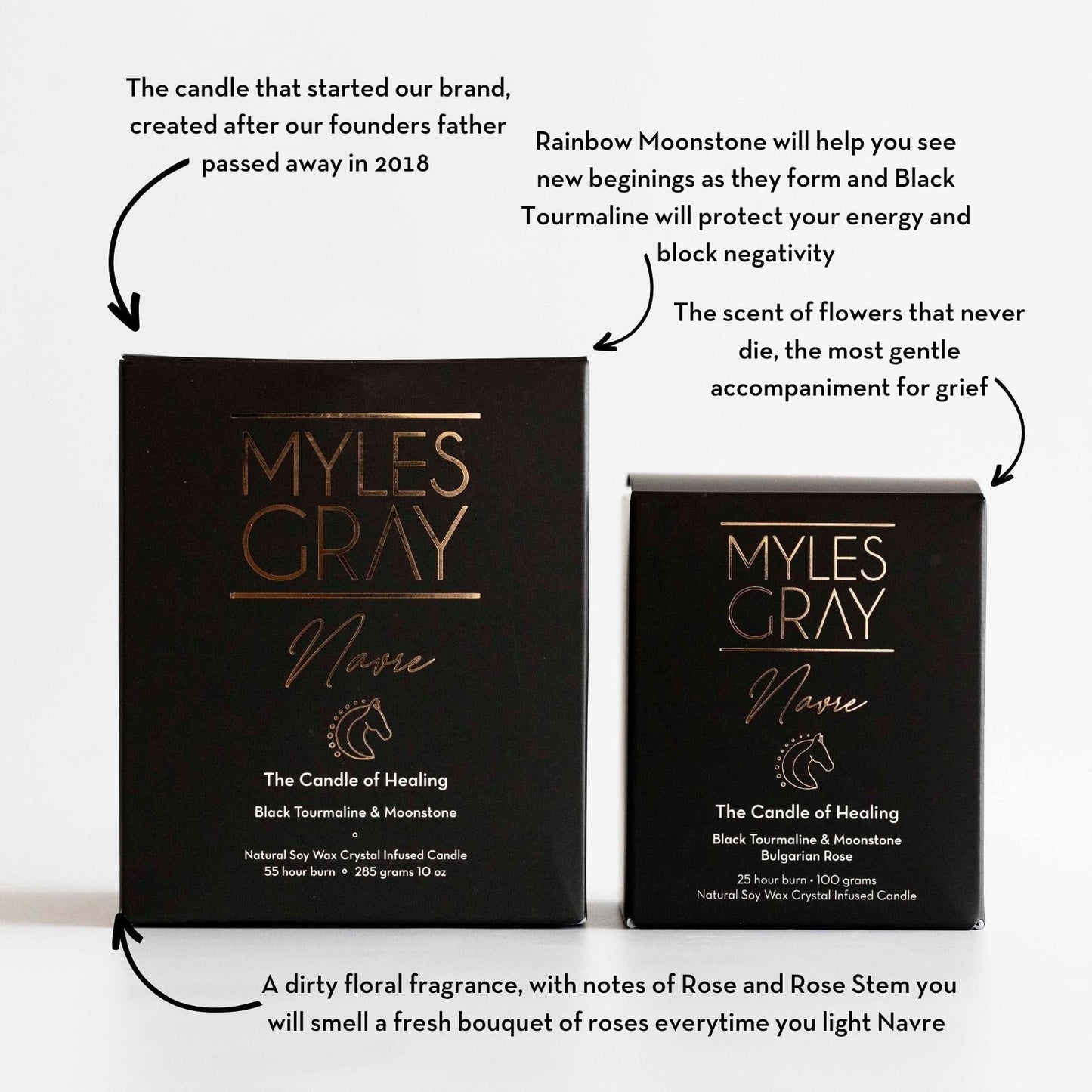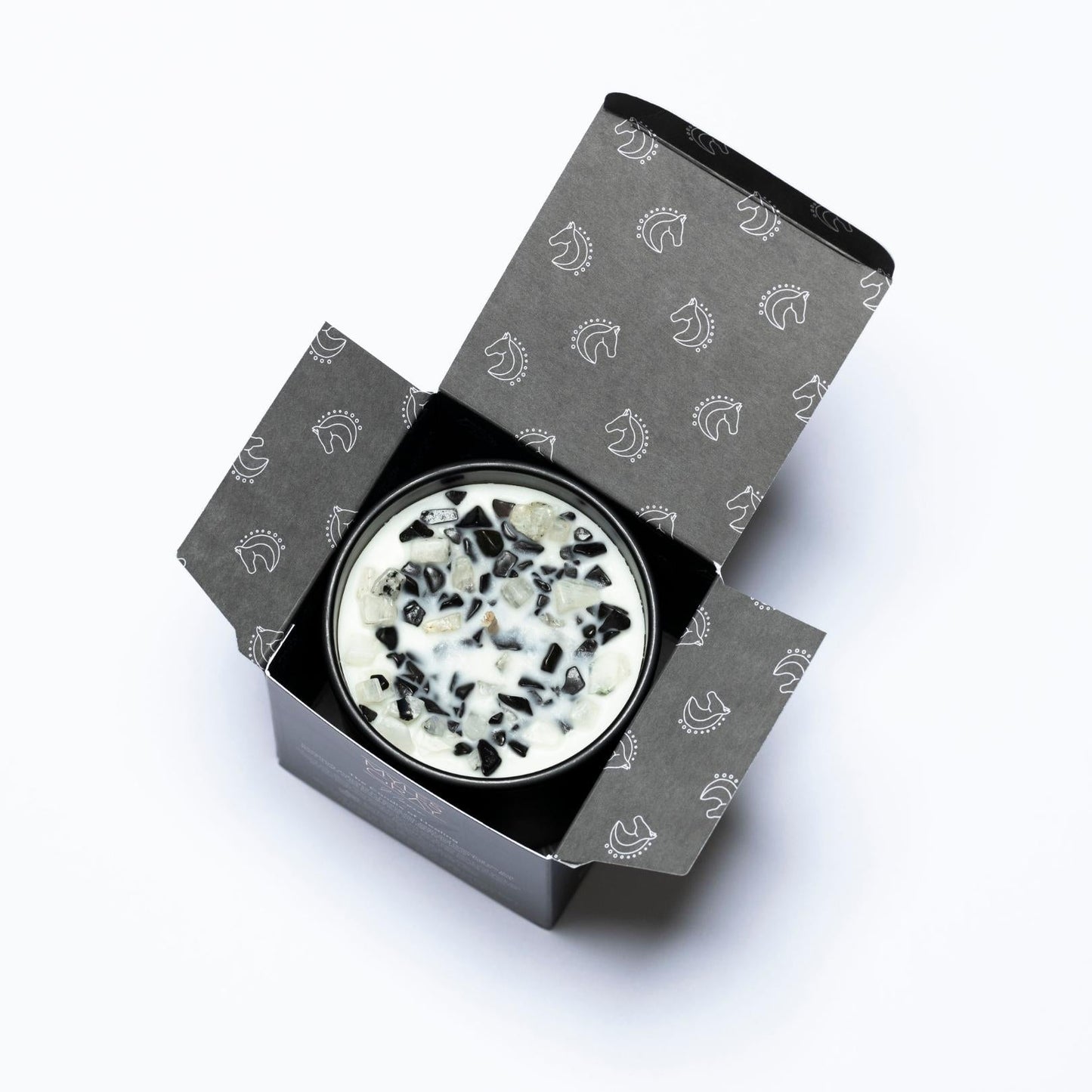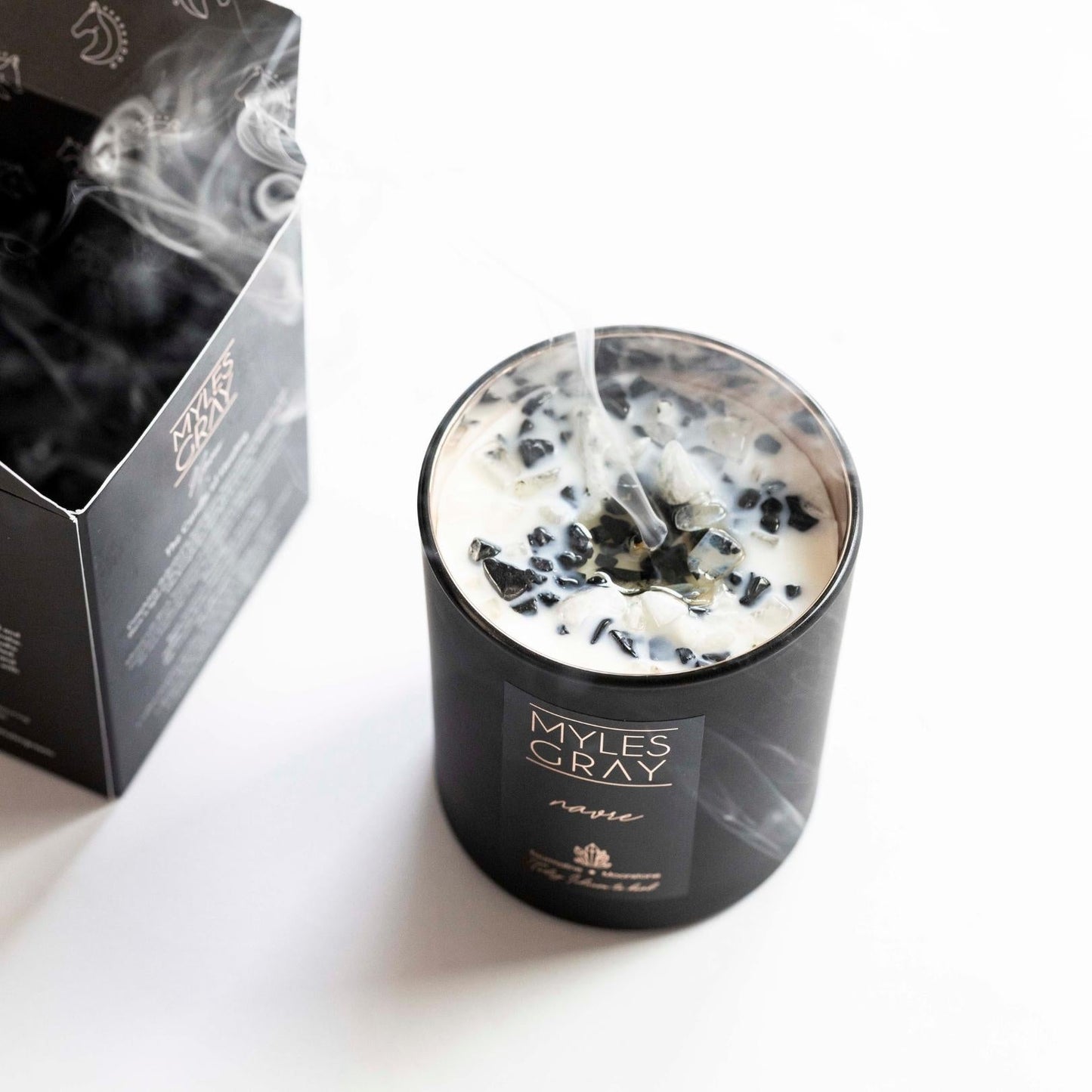 Navre Candle
I first hear about this company on Instagram. When my best friend lost her Mum to Brain cancer I had the Navre candle ordered and shipped to her home. She kept it by her mothers urn and photo while she was in the early stages of her grief. Then sadly about 18 months later I lost my father after a prolonged stay in hospital and an ICU. My friends banded together and had this candle and the beautiful matching bath soak delivered to me. I kept it by my fathers photo and his memorial rose whilst I was in the early stages of my grief. To say that this candle was instrumental in easing some of the intense early pain of grief is an understatement. My boss has just recently lost her father and as soon as this candle is back in stock I will be ordering it and having it delivered to her. thank you to Myles Gray team for making such a beautiful candle and other products. I am one happy returning customer.
Navre
I absolutely love your candles and the Navre is my favourite. Great quality candles and service
Devine
Never disappointed, candles smell amazing and bring such a beautiful vibe to our home
Navre | The Candle of Healing