Regular price
Sale price
$29.95 USD
Unit price
per
Sale
Sold out
Indulge in the luxurious warmth of our Je t'aime candle, infused with the magical properties of Rose Quartz and a delectable blend of buttercream, salted caramel, and vanilla. As the scent envelops your space, you'll feel as though you're wrapped in a cozy cashmere blanket of love.
This candle is more than just a fragrant delight – it's a heart-healing powerhouse. The Rose Quartz crystal imbues it with calming energy, helping to soothe your heart and release any pain or negative emotions. With Je t'aime by your side, you'll experience an immediate sense of love, serenity, and tranquility in your home.
Let Je t'aime work its magic on your heart chakra, opening it up to infinite peace and inner healing. With each burn, you'll cultivate a deeper sense of self-love and personal fulfilment, empowering you to give and receive love freely. Say goodbye to painful memories related to love and watch as new love blooms. Fall in love with Je t'aime – your heart will thank you.
The notes:
Base: Tonka Bean, Condensed Milk, Musk, Vanilla
Middle: Creme Caramel, Candied Pecan, Coconut, Heliotrope
Top: Hazelnut, Sea Salt, Buttermilk, Star Anise
The affirmations:
I understand that every relationship starts with me, I have wonderful loving relationship with myself.
I deserve to be loved.
I am thankful and grateful for the love in my life.
I am ready for a healthy and loving relationship. 
The nitty gritty:
Burn time: 25 hours
100% natural soy wax
100% cotton lead, free wicks
Hand poured in Melbourne
Affirmations will provide stronger energy 
Where to put me:
Je t'aime was made for love, so put it anywhere in your home that needs a little extra love or your family spend a lot of time. 
Pairs well with:
Navre (to heal after loss or breakup)
Reine (to bring in love and compassion)
Vous Pouvez (to bring confidence and self-love)

Chakra Alignment – Heart
Share
View full details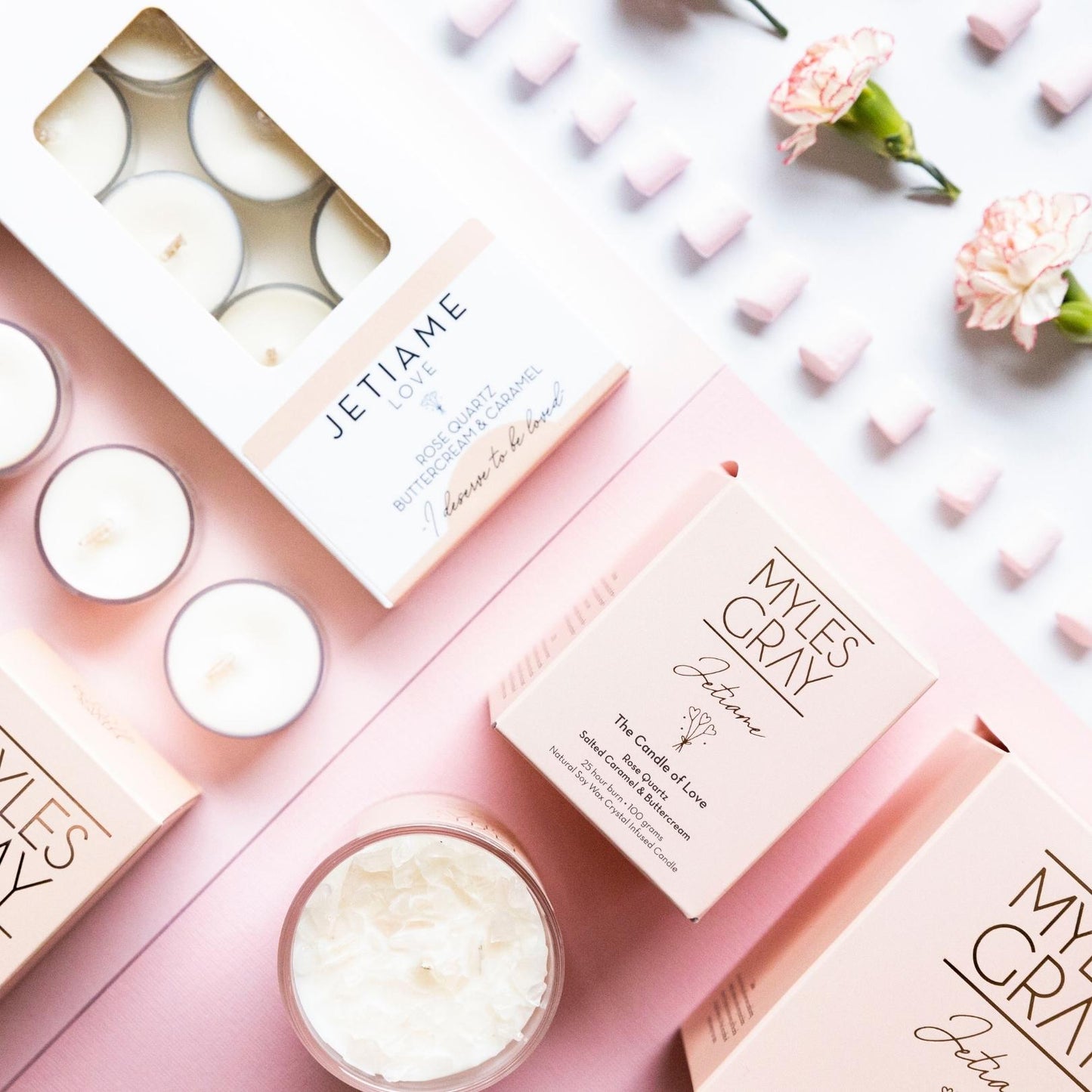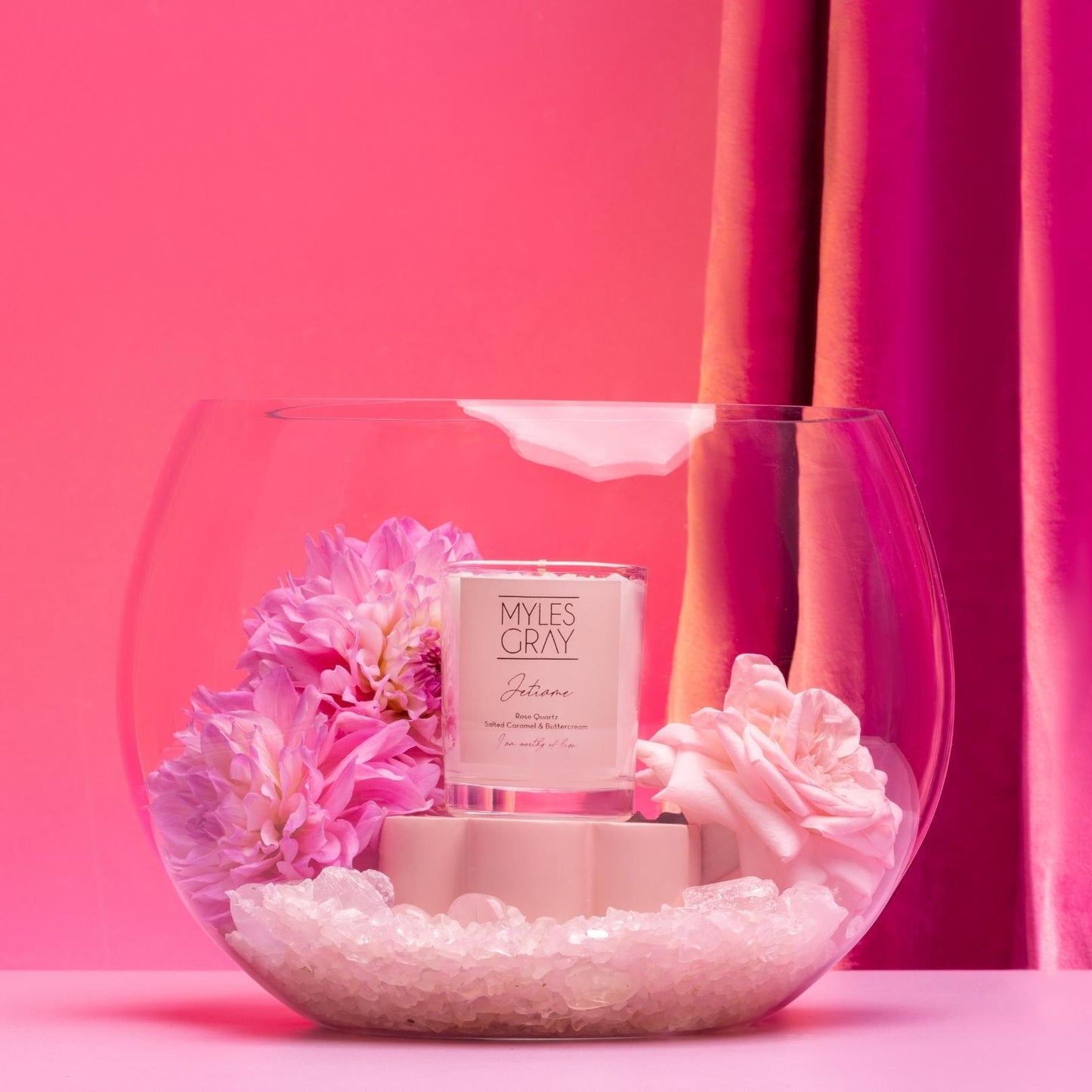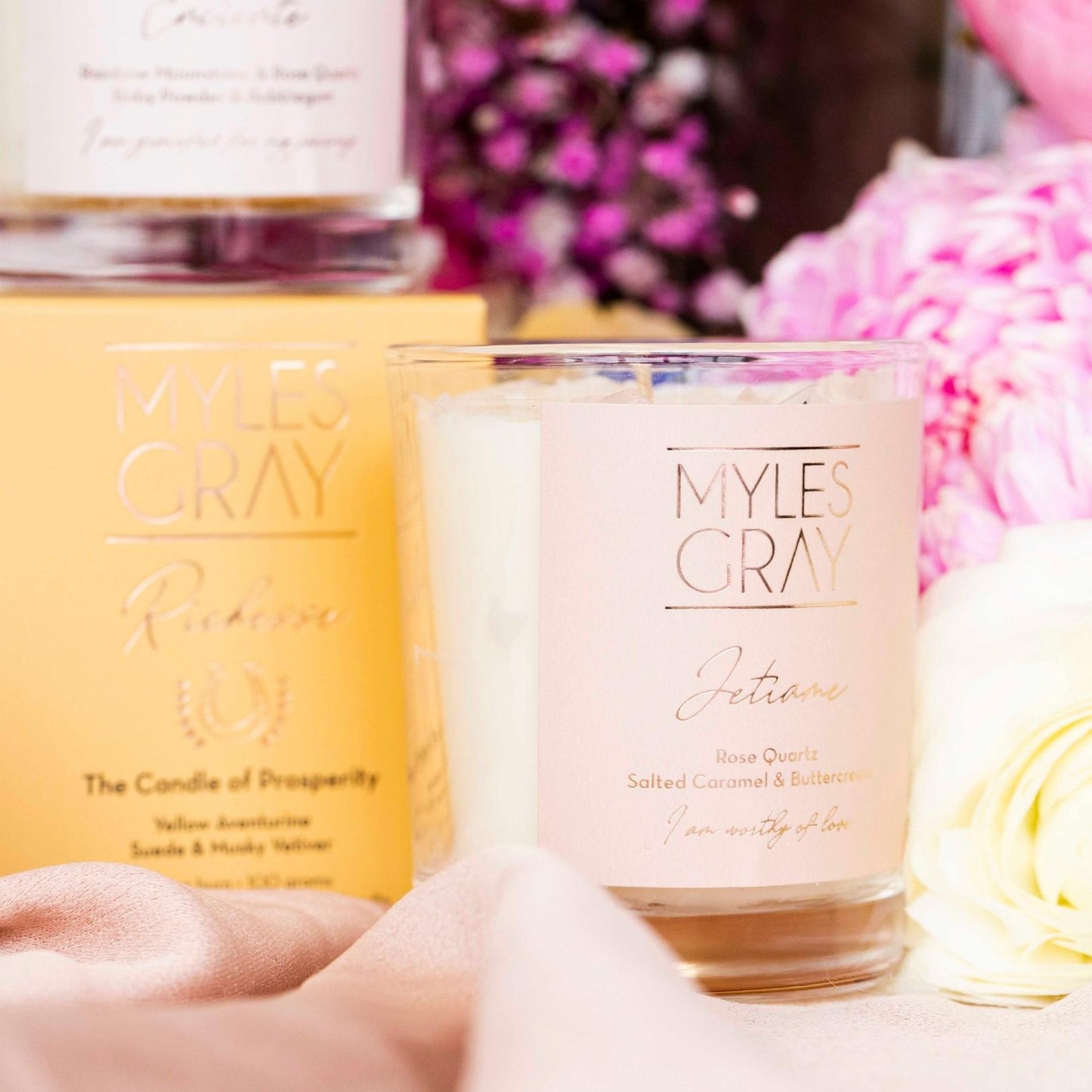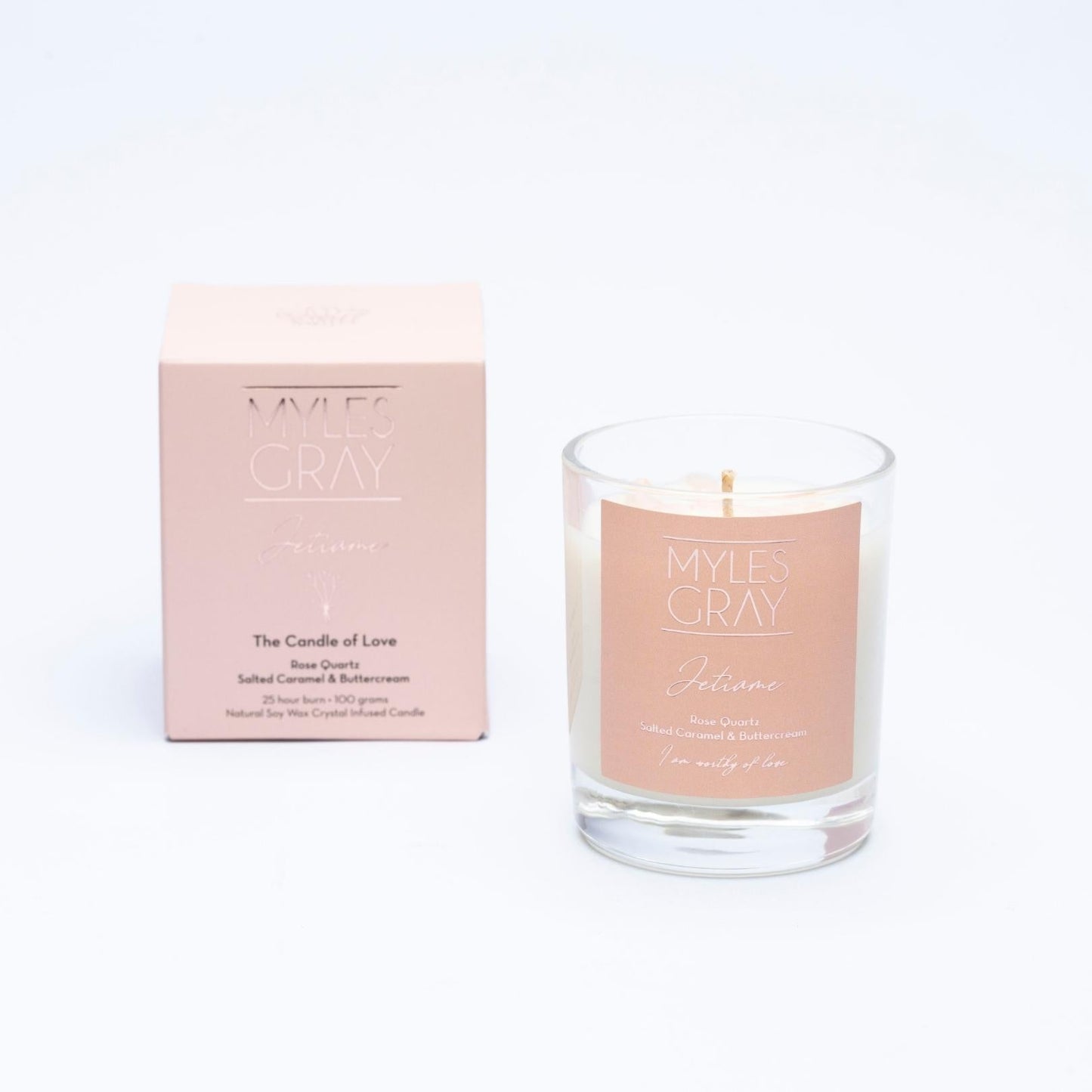 Love it!!
Love at my candels and the mini is the perfect size for a small space and for gifting. One of my faves!
Beautiful aroma
Before lighting this candle, I knew it was going to be good. The aroma through my lounge room is so inviting. Had a rent inspection and even the R/E lady loved the beautiful aroma. Thank you ♥
Amazing!
If you are like me and love a vanilla/caramel/buttercram scent to candles/melts/diffusers/sprays or basically anything this is the candle for you! I absolutely love the sweet smell of the vanilla with the salted caramel tones. Gives you a sense of calmness, love,peace and tranquillity. The candles smell without amazing without burning and when they burn the smells travel thoughout the house and everyone loves them.
Thank you to Janelle, and the Myles Gray team for such an amazing product
Candles
Absolutely love my candles. Smell beautiful and look beautiful
Amazing
Just how I imagined after reading the description couldn't be more happy 😊
I recently found Myles grey from a friend who went to the warehouse sale and she bought me navre, I couldn't bring myself to burn it for so long as it was just to pretty eventually I did that's when I ventured online to buy more
Possibly be splurging more often as vanilla scents are my absolute favourite! After burning this little beauty, everyone whose visited has noted how amazing my house smells 🥰
Thank you janelle and team at Myles grey