Regular price
Sale price
$54.95 USD
Unit price
per
Sale
Sold out
Reine is the ultimate candle for strength, compassion and protection! Infused with the powerful healing energy of Rose Quartz and Black Tourmaline, Reine will invigorate kindness and tenderness, offering you the strength and support you need during difficult times.
Whether you're facing tough decisions, navigating parenthood, or standing up for yourself, Reine will help you find your inner resilience and channel your energy towards positive outcomes. Rose Quartz amplifies love and compassion, imparting a softer touch to your daily life. Meanwhile, Black Tourmaline offers fierce protection and strength, creating an aura of safety in your home.
Reine is a candle full of abundance, waiting for you to tap into its power. It will help align your thoughts and recharge your mind, so you can make heartfelt decisions without feeling weighed down by burdensome thoughts. With its intoxicating scent of Lychee Guava Sorbet, Reine fills your home with a sweet, vibrant, and fresh aroma that uplifts your spirit and soothes your soul.
So if you're feeling overwhelmed, exhausted, or confused, Reine is the candle you need.
The notes: 
Base:  Vanilla, Coconut
Middle: Guava, Peach
Top: Lychee, Lime Peel 
The affirmations: 
I am strong
My decisions are made with courage and kindness
My strength is my love and my love is enough
In this moment I will survive
I am worthy
I am doing the best I can with what I have
The nitty gritty:
Burn time: 55 hours
285 gram wax
800 gram weight
100% natural soy wax
100% cotton lead, free wicks
Hand poured in Melbourne
Affirmations will provide stronger energy 
Where to me:
Reine will work in any room you spend your time, we use ours near our children's play room. Any living area you spend your time in will be the perfect place for Reine. Let it guide you when you are trying to find its home.
Pairs well with:
Jetiame (to bring love and compassion)
Lumiere (to heighten healing)
Navre (to help with the healing process)
Esprit Clair (to bring clarity and compassion)
Chakra Alignment – Root and Heart 
Share
View full details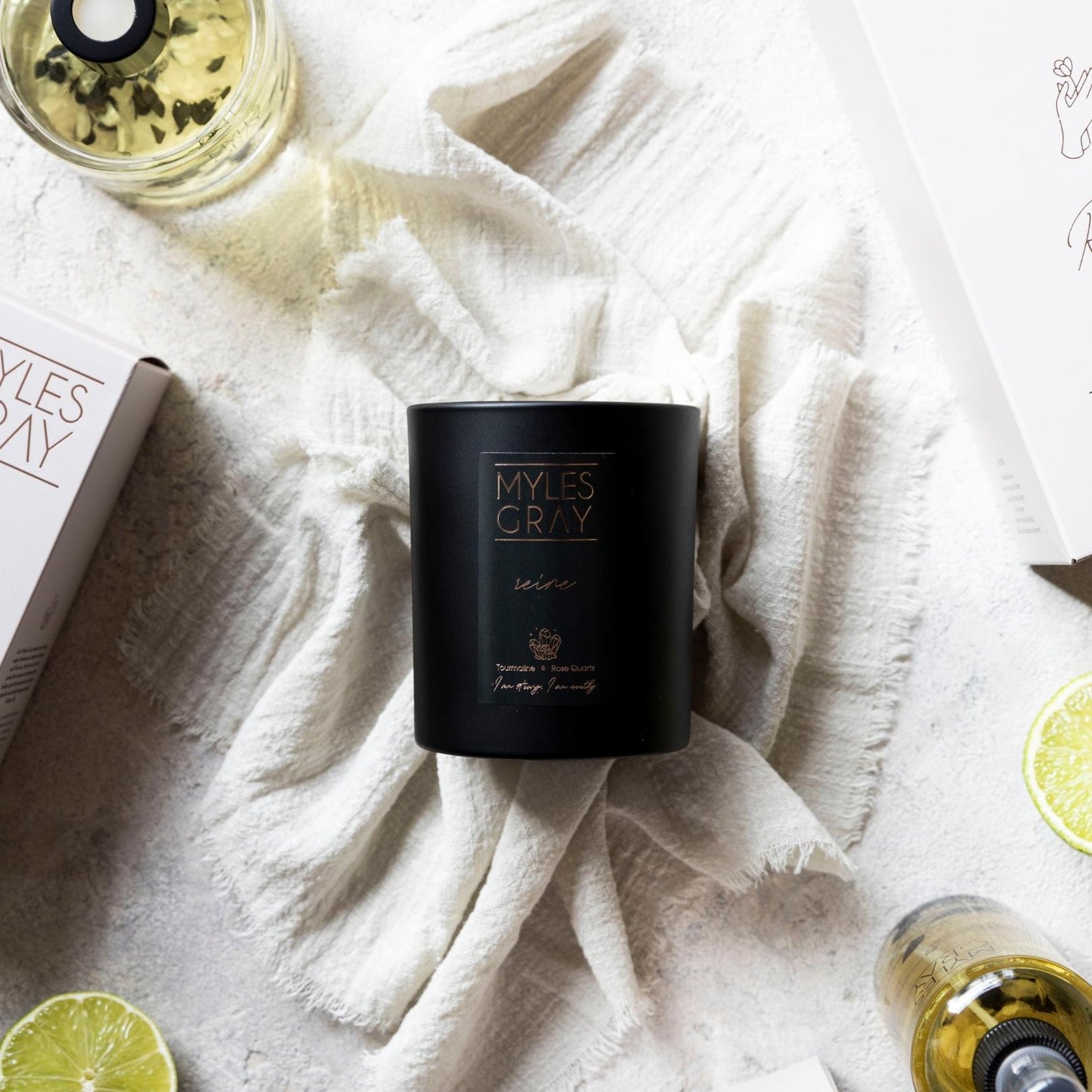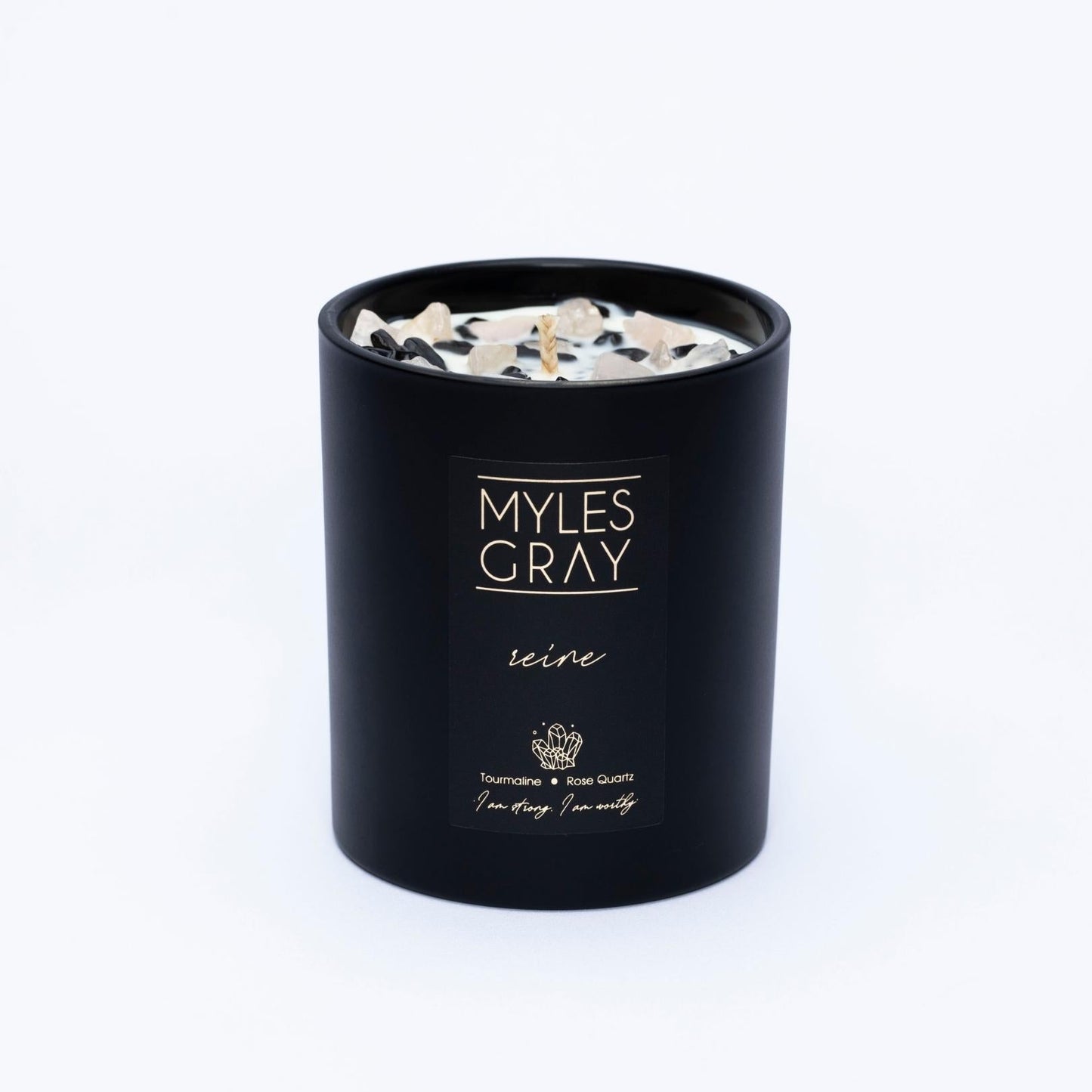 Thank you
Can not thank you enough for such a beautiful product. Look forward to my future purchases
Such a sweet candle.
I've given this candle as a gift a few times because it feels so gentle. It's the candle version of a cute little forehead kiss from your grandma. And it smells delicious too- very summery and fruity.
Beautiful
Absolutely beautiful candles. My home smells amazing.
Gorgeous candle
I love this candle. This is such a beautiful soft smelling candle. The mixture of coconut, vanilla and peach makes it smell Devine. I have it in the lounge room and everyone that walks in compliments on how lovely it smells. This has become one of my favourites and will be purchased again and again.
Tropical beauty
I'm in love with the tropical fruity scent of Reine. It makes me feel so happy and content. It's subtle yet strong enough to perfume the whole house. Just love it!